Editor's Poems
Select Poems of Michael Lee Johnson
Flight of the Eagle
From the dawn, dusty skies
comes the time when
the eagle flies-
without thought,
without aid of wind,
like a kite detached without string,
the eagle in flight leaves no traces,
no trails, no roadways-
never a feather drops
out of the sky.
-1981-
By Michael Lee Johnson
See The Eagle Fly, Just See the Eagle Fly!
Flight of the Eagle: one senses imagination, freedom, the desire to be free on the wind, tortured no more, left alone to survive. Here a degree of mysticism prevails, a depth of intestacy, a genius wording of simplicity, a cover from the dark. This little piece is a true reflection of the inward tenacity of the authors will, a testimony one can trust.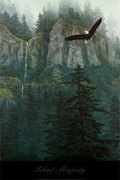 Little Critters Who Become Poetic Stars-The Horse Fly
Bathroom Visitor
A horse fly
travels the world of my bathroom.
Stops at the kitty litter box
on occasion for refueling.
One thousand round trips
including the bathtub area,
and buzzes past the toilet bowl.
Steady pilot, good mileage.
Frequent flier miles.
I swat his journey to an abrupt end.
-2007-
By Michael Lee Johnson