Featured Poems
The Beginning of The Best: Poets In The Eye Of The Storm!
Dead Souls
by Phillip A. Ellis
I'm a dead soul now,
though never read it,
and I feel your curse
has led me to extremes,
to the edge of abysses
I want to plunge into.

We both know what abuse is like.

I do it myself all the time,
what with the pins put in,
needles I sew my eyelids shut with,
or my mouth, or fingers together.

Then there's the cuts
pissproud with ingrained ash;
they're sweet I tell you,
sweet.
Anonymity
by Phillip A. Ellis
If only the Max Brod of my mind
would burn my personality...

if only I could write, sans name,
publicly renounce what I privately publish
sans name, sans scrawl, sans title...

if only I could learn to play
in a blind room with whisky above the keys
in a cracked and dustmuffled bottle...

if only I could hide,
my face holding that world away
as if my mask lifts the day away...
if....
Editor Comments:  Phillip A. Ellis is a poet, who masterfully blends form and
meter while merging imagery skillfully into the mix.  Author of: Strange Gardens:
http://www.lulu.com/pellis  Editor of: Calenture: a Journal of Studies
in Speculative Verse: http://calenture.fcpages.com/.
by Jéanpaul Ferro
On cold New England days,
in terrifying winter scenes,
when you suddenly have it all figured out,
the sky gray and tabled,
sleeping in your own white skin,
our mouths beautiful crystal cylinders,
cylinders wide open like we're all screaming,
screaming in a forest of six billion souls,
skeletons in a thousand year old cemetery,
red and silver spheres floating up to God
from sewer grates.
But you?¾you're the appalling line storm,
the way you pretend to be John Wayne,
innocent like the Lone Ranger,
but you can't even remember your own name,
because you don't want to remember yourself
yesterday,
remember when you could walk down the street
without a gun?
back in the day when we could sleep, naked,
together on the beach at Mark 21,
our porn star days,
the summit of our lives,
when everything was suppose to be downhill after that,
the way we always walk the line,
always straddling life right down the middle,
because we're young, callow, and stupid,
the way we listen to them singing down
in the Kingdom Hall,
you, always singing along
with them like you really care,
when we have no money and you go out and
buy a Corvette on your credit card,
on a day when there is nothing else to lose,
you say:
"Florida is just like that sometimes¾"
but I can never fool you,
always trying to be California
when really I'm New York;
maybe that's why you always try to protect me,
that genius in our very own frailty (each other),
the way we're all utterly helpless in the end,
bodies beat up as we float, naked, up against one another,
our minds tired as we make love in bed,
our souls so very dead after we've finished
looking around.
by Jéanpaul Ferro
You came undone like the pink rolling waves,
crawled on your stomach all night long,
the cold, cold days on the inside like a fast train,
seven hours of daylight left in this universe,
I did everything I could to put you back together,
return you to innocence like back in Maine,
cooked you diner for forty straight nights,
steaming white chowder and vegetables bowling in a pot,
deceptively, each day went past black and gray,
rising to the ocean like a murdered Indian,
cutting our wrists with the prescription right in our hands,
driving down all the abandoned roads until there was
nowhere else to go.
Jéanpaul Ferro is a poet, short fiction author, and novelist from Providence, Rhode Island. His work has been featured in Hawaii Review, Cortland Review, Barrelhouse Magazine, Portland Monthly, Pedestal Magazine, Southern Cross Review, Review Americana, and others. He is a 4-time Pushcart Prize nominee, 2-time Best of the Net nominee, and his work has been featured on WBAR radio in NYC. Additionally, his book of short fiction, All the Good Promises, was published in 1994 by Plowman Publishing.
Editor Comments:   Here we have a very talented poet, one of my own heart string, with strong imagery and subject content to match.  Seek out his works.
Silent Ink
by Jim Greenwald
I wish I could take the words
I write so painfully on paper
and speak them to you
face to face.

You left, not in the yellow sunshine
of daylight, but the ebony of evening.
I, asleep, did not hear your fading footsteps.
Or see you fleeing to elude your worst enemy…life.

If only you were standing
here I would enunciate each
emotion, emphasize every ache
I have written in indelibly silent ink.

Once there were kisses that burned with desire;
once, unbridled passion filled our lives.
Before you left kisses turned to little pecks in passing;
devoid of passion…feeling like ice against my lips.

Your hastily scribbled note left as an after thought--
written with words once filled
with love, they now inflict
only pain with each syllable.
Editor Comments:  Jim, says, "I have no problem with your mentioning that I am a two time survivor of cancer.  I credit a positive outlook as the reason I have done so well, some folks give up when they hear the word "cancer" and that is a poor decision.  Many folks have it far worse than I and many survive today, compared to years ago."  Not only does he have talent for writing, but what an inspiration for other writers struggling in their lives.  Do I need say anymore, why Jim showed up here?
Belly Dancer
by Andrew David King
[originally published on MadSwirl.com]

the twanging sitar
her perfect body, a fluid column
riding the twilight air as cool as the waters of the Euphrates
jangling gold coins sewn into a tapestry of desire across her breasts
her skin, the pure treasure of Arabia's lore
the crowd surrounding covered in fine sand
men staring anxiously tossing tarnished dinars by her delicate feet
the dust rising, the ghost of a genie in some forgotten lamp
the drums speeding up
the sweat pouring down my face like coveted rain
she moves as a snake on hot sand
emerald eyes casting jewel glares into a forbidden oasis
the desert breeze pushing back the flap of my frayed robe
the haphazard wires and black vest suddenly exposed
so mechanical against the ancient endless backdrop of nature
the man standing across from me now glancing away from her golden figure
his eyes registering me, my thoughts, my utter necessity
the drums pounding faster, faster
her tan arms, serpents seeking the sun
my hands trembling as i reach for the cord
the man opens his mouth but no noise escapes
and suddenly everything has turned
to white
 Editor Comments:  Andrew David King was born in Fremont, California on June 11, 1992.  With a "demanding and insightful voice" poised to issue unprecedented commentaries on both society and our lives as human beings, he has enjoyed writing since middle school and has written poetry, fiction, and non-fiction pieces.  When he's not putting the pen to paper, he enjoys playing guitar and piano, jamming with his band, swimming, doing collage, ranting about the irrational teachers at his school, discussing politics, composing music, searching for the Holy Grail, and observing the world around him with a critical eye.  He has a penchant for dreams, good friends, Greek mythology, San Francisco,  and any sort of chocolate.  Recently, he was invited to be featured in the Other Voices International Poetry Project, where his work is displayed alongside such authors as Ursula K. Le Guin, Luis J. Rodriguez, and Jimmy Santiago Baca.  He is currently working on his first collection of work, Chasing the Illusion.  He has been a winner of the Martin Luther King Jr. Art and Essay Contest for the city of Hayward, California, and his visual art has been on display at the Oakland Museum of California.  He is currently a sophomore at Moreau Catholic High School, where he attends on scholarship, and lives in Hayward with his family.
The Eye of the Seed
by David LaBounty
My eyes, blue and
blurred by bloodshot
whites
blurred by
wrinkles and sand
and there is no
stillness there
but maybe some
sort of vague
restlessness, the
restlessness that
comes when nothing
is quite good enough
the restlessness
that comes when
you haven't done
enough and your
life, technically,
is halfway done.
My youngest son,
six, eyes brown
and bright like
falling autumn leaves
backlit by rays of
an unbroken sun,
eyes bright and
satisfied with a life
of friends and soccer balls
there is no turbulence
there.
The Seventy Dollar an Hour Couch
 by David LaBounty
Was no one left
at the end of the
polar journey
that began
the moment
my childhood
started to bleed.
End.
Editor comments:  I like David LaBounty because of his spirit.  He is working on tightening his images, but his honesty and fundamental skills are in place.  Sometimes it is not a matter of talent for talent sake, rather, potential to see it develop.  I think David LaBounty is a man developing his craft.
Salad Days

by Martin Jervis

In the garden shed of half painted days

Rusty spades and rakes strung on hooks

Drawers of pea seeds in layers of dust

And wheel-less barrows of dry black oak

Amongst the weathered canes and chicken

Shit my grandfather sat and lit his pipes

Curling secret smoke from my grandmother's

Eye and rattling the air with his war gas cough.

He sowed the earth with abundant feed

Corpulent marrows and carmine beets

Viridian beans and trench fed cucumbers

Whilst I chased cabbage whites with a

Beating branch and knocked bees off flowers

With a squirting bottle of watery strafe.

                    

He smelled of fresh earth and tobacco stains

Pockets full of matches and dry runner beans

Seed packets and labels and thick pencil stubs

A bulged corduroy jacket of jetsam filled his

Hazel eyes clear and focused on one plot of earth

He scoured pipe black carbon with a handy stalk

Knowing his salad days growth was bolting on.

Editor Comments:  I like this poem since it has a touch of earth,

and a touch of family.  Martin Jervis lives in Leeds, England. His poetry has been published in the UK, the United States, Canada, Australia, India and Europe. Spends part of the year in India and has written a series of poems with an Indian theme. He has also travelled extensively and is currently completing a book of collected works.  He has been published in many journals.


Rings

By Stephen Mead 
 
The first thing was voices
after what was fathomed as pain.
Perhaps that was just the impact
and worn off shock.
Sure, those makeshift handcuffs hurt
but not as much as the fear,
a migraine's pistol whipping
though the real guns were only brandished.

Damn that pounding head,
those nerves inherited from my Mother,
when the hijacker's accents actually,
if at a lower pitch,
could have seemed melodious.

Who wrote this libretto
I am still singing the evaporative
words of here?

It is an aria smoke-choked,
the fumes of fuselage
crashing in the blast's ash
as no composed timpani
I would ever choose
to be a part of
any more than a frantic
mourning dove, cathedral-trapped,
in eaves of screams,
the wind itself a vortex
of splinters throughout
a mass of wings bleeding,
broken to black.

Unaccountably, following that,
veils of such silver began to spiral,
to glass-sparkle. What moth motes
we were then.
What disoriented unbound antennae
and mouths suddenly without gags.

Atoms lost limbs
but became flesh of some other,
became atoms without boundaries
calling for faces to name us
though they be mole-blind as bats.

If you found me would I know it?
Would touch recognize touch?

Love, as a roar, all sensations pour
until silence seems a sense.
We open from it as mast-flapping sails.
We open from it through shafts of cones
where once two towers stood.

Circling further, circling endless above this,
invisible still years after,
invisible but within grasp
we visit as sighs of light,
as absence amid presence
to shadow the threshold
of what no longer is

and be entrances yet.


Editorial Comments:  Stephen Mead is an artist and writer living in northeastern NY.  I find it incredulous when someone is smarter than I am; or, I have to spend half my night in the dictionary or the thesaurus to determine if I like a poem or not--in this case, Stephen  Mead wins.
Insert Sub Header Here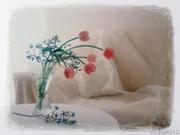 Insert Another Sub Header Here